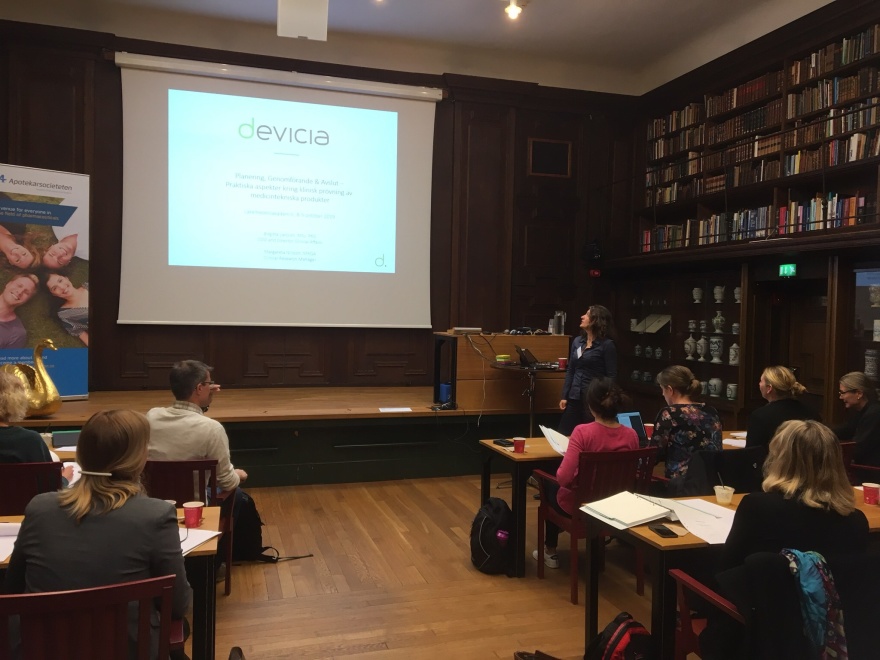 During October 8th and 9th, Devicia was lecturing on clinical evaluation and clinical investigation of medical devices at the Swedish Pharmaceutical Society in Stockholm.

The focus of the lecture was for the topic relevant regulatory requirements, the practical work in clinical evaluation of medical devices and how you plan, conduct and complete a clinical investigation.

In the picture you can see our COO and Director of Clinical Affairs Birgitta Larsson, she was also accompanied by one of our experienced monitors and Clinical Research Managers Margareta Nilsson.
Läs hela inlägget »
During September 23rd to 25th, Devicia is visiting The MedTech Conference in Boston. We are looking forward to three days of networking and sharing the knowledge, see you there!
Läs hela inlägget »
Devicia in Australia! On September 19th & 20th Devicia was an exhibitor at the MedTech 2019 Conference in Sydney. Our Business Developer Eva Reinander was representing!
Läs hela inlägget »
Sweden - Mölndal

+46 72 55 56 891

Address:
Argongatan 2C,
SE-431 53 Mölndal
Sweden
Sweden - Stockholm

+46 72 55 56 891

Address:
Brunnsgatan 6
SE-111 38 Stockholm
Sweden

USA - PA

+1 484 803 24 14

Address:
1735 Market Street
Suite 3750, Philadelphia
PA 19103, USA







Copyright © 2019 Devicia. All rights reserved.